<!== Packaging Machinery ==> <!== Packaging Machinery ==>
New WeighFillers Generation Model Series S 700
For powder, granulates and small components.
User-friendly operation of the weigher with LCD screen, clear text and data input via keypad.
Programming of the Weigh Filler requires input of only three data points:-
nominal weight
weight tolerances
weigh filling speed
Different models of weighers designed for weights ranging from 5g - 5000g .
There are special versions of WeighFillers ranging from 0,05g - 10g These models are suitable for weighing, dozing, counting and filling of pharmaceutical tablets, powder and granulates .
Automatic monitoring and regulation of the speed of internal vibratory conveyor feeding product to dosing weighers.
Up to 25 weighing / filling cycles per minute
depending on product characteristics, and fill - weight.
Extensive statistics, and production reports including:-
fill counter
batch size
totals
mean weight
standard deviation
In order to enhance quality control procedures, automatic report generations, and communication with optional supervisory computer system ( SCADA ), are available.
Options:-
- Multi weighing heads for products mixing, or increased
production speed
- TO - reject
- Surface coating
- GMP design
- Statistics printer
- Synchronization with up-stream, and down-stream
equipment on the packaging line
Except for a few parts, Weigh Filler Model S 700 is exclusively manufactured from stainless steel. Due to design using single internal vibratory conveyor feeding weighers, the unit is very compact, easy to maintain, operate, and clean.
An adaptive control algorithm control the S 700 internal vibratory conveyor. All parameters necessary for weighing process are automatically calculated, monitored and adjusted, so only values for target weight, tolerance limits and output need to be entered.
So it is only necessary to enter Options for synchronization include an external signal for fill weight discharge (for example from a form fill and sealing machine), manual fill weight discharge input (foot switch), or internal trigger (for example conveyor with indexing system for filling in plastic containers, cans or glasses).
Product ranges suitable for WeighFillers, include (but not limited to):-
- Powder, granulates
- Pharmaceutical products
- Tablets, caplets, soft, or hard capsules
- Small metal parts, screws, nuts, washers and dowels
- Seeds, spices, herbs
- Tea, coffee
- Vegetables, salads and mixings
- Granola and cereals
- Veterinary medicine, and pets food
Internal Vibratory conveyor width
mm

Volume
ccm

Weighers Range
up to

Weighers Resolution
at

10 - 30 mm

15 - 30 ccm

10 g

0,001 g

30 mm

200 ccm

20 g

0,01 g

60 mm

350 ccm

50 g

0,03 g

80 mm

450 ccm

100 g

0,05 g

100 mm

900 ccm
to
1300 ccm

250 g
500 g
1000 g

0,1 g
0,2 g
0,5 g

150 mm

2000 ccm

250 g
500 g
1000 g

0,1 g
0,2 g
0,5 g

200 mm

2700 ccm

500 g
2000 g

0,2 g
1,0 g

250 mm

3300 ccm

1000 g
2000 g

0,5 g
1,0 g

300 mm

4000 ccm
to
10000 ccm

500 g
2000 g
2000 g

0,2 g
1,0 g
2,0 g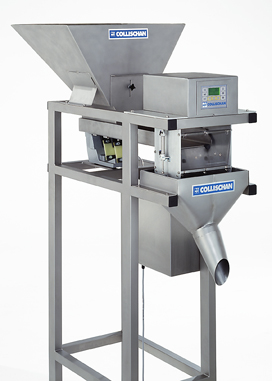 S 720
Low cost
User friendly
Fast change over
Simplified cleaning